Ready to Move Forward With Your Life?
Hire a Competent Divorce Lawyer in Mequon, WI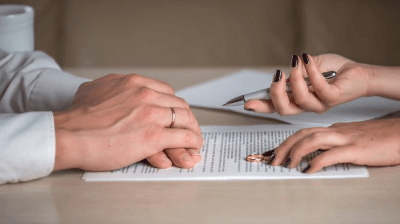 Going through a divorce can be stressful and complicated. You want to hire a divorce lawyer who stands by your side through every stage of the process. Attorney Fraker is a hardworking divorce lawyer in Mequon, WI. He'll defend your interests and take time to understand your situation and explain your options.
Collaborative divorce and mediation are also available, so get in touch with your divorce lawyer today to learn more.
3 Benefits of Collaborative Divorce
In a collaborative divorce, each party hires a divorce attorney for representation. We'll hold multiple meetings to negotiate and reach compromises. Call Fraker Law Firm, S.C. today about a collaborate divorce if you want to:
Save money: Skip the expensive fees that come with litigation.

Save time: Litigation is a long process, so we'll work to come to an agreement faster.

Avoid the courtroom: It's less stress and hassle to settle your divorce outside of court.
Call Fraker Law Firm, S.C. today to schedule an initial consultation in Mequon, WI. Your divorce lawyer will explain how the process works and answer all of your questions.
Divorce Lawyers in Mequon & Thiensville, WI
Protect Yourself and Your Finances During a Divorce
Divorce is the final, legal ending of a marriage, by court order, which includes the resolution of the issues of custody, placement, child support, maintenance, and the division of assets and debts.
The process was designed to give couples a chance to think about their options and do what is best for their families. In order to take advantage of this time and come up with a plan that truly fits your needs, you need an experienced lawyer on your side.
Once you file for divorce, you will have at least 120 days before you can get a settlement approved or take your case to trial in order to obtain the divorce judgment. During that period, you will have several important steps to complete, including:
Divorce Mediation
Divorce mediation is one way to help divorcing couples reach agreements. In a confidential process, both parties (and perhaps their attorneys) meet with a neutral mediator, who can guide you through the process and help you develop a plan that works.
As your attorney, I can help you find the right mediator, who likely will fit into one of the following categories:
Directive mediator: Usually a former judge, a directive mediator probably will tell you what he/she would decide if handling the case and advise you that you might want to act in accordance with his/her opinions.
If you are unable to reach a settlement with the other party, then your case is scheduled for trial
Determining Maintenance in Wisconsin
Often referred to as either alimony or spousal support, maintenance is designed to be fair to both parties coming out of a marriage. During marriage, each party enjoys certain financial benefits, and maintenance is designed to make sure that the termination of the marriage doesn't result in an unfair financial impact on either former spouse.
Maintenance - Unlike child support, there is no clear-cut formula to follow for spousal maintenance. The court will consider a number of factors, but there is not necessarily uniformity in the weight given to each factor.
In most cases, however, a very important factor is the length of marriage:
If one party waives maintenance at the time of the divorce, he/she cannot seek it later, so we make sure you are informed about that consequence from the start.
Post-Divorce Enforcement and Modification Proceedings
Sometimes issues arise after the divorce is done, leading the parties to return to court to resolve them. Such post-judgment actions include proceedings to modify custody, placement, and child support, proceedings to enforce existing orders, and proceedings to punish a party for having failed to obey existing orders.
Your Divorce Really Doesn't Have to Be Stressful
Your divorce does not have to be a fight. By choosing the collaborative divorce process, you and your spouse can lessen the animosity and walk away happier after working together to create a settlement tailored to your needs.
After proving to be a successful system in Minnesota over two decades ago, the collaborative divorce process is now available in Wisconsin. The system is simple, but you need a lawyer on your side to make it work. Each party has his/her own collaborative divorce attorney as part of the proceedings.
Next, each side must fully disclose all necessary information. Once you have exchanged this information, you will work together to come up with a plan for every aspect of your settlement, from child custody and support, to maintenance and property division. When an agreement is reached, we will take it to the court together to have it approved by a judge.
If your collaborative divorce process breaks down for any reason, both attorneys must withdraw. This is a good incentive to come up with an agreement that is mutually beneficial for both parties.
Your Collaborative Team
Coaches and experts can be a helpful part of the collaborative divorce process. We encourage our clients to work with a coach, such as a psychologist to deal with emotional issues. If you have children, you may want to work with child specialists as well. Also, a neutral financial expert could help you resolve property division issues.